ALIVE '75! The Ultimate Classic KISS Tribute w/ The Riffs
Rock | Classic Rock
Sat
September 30, 2017
8:00 pm
EDT
(Doors:

7:00 pm

)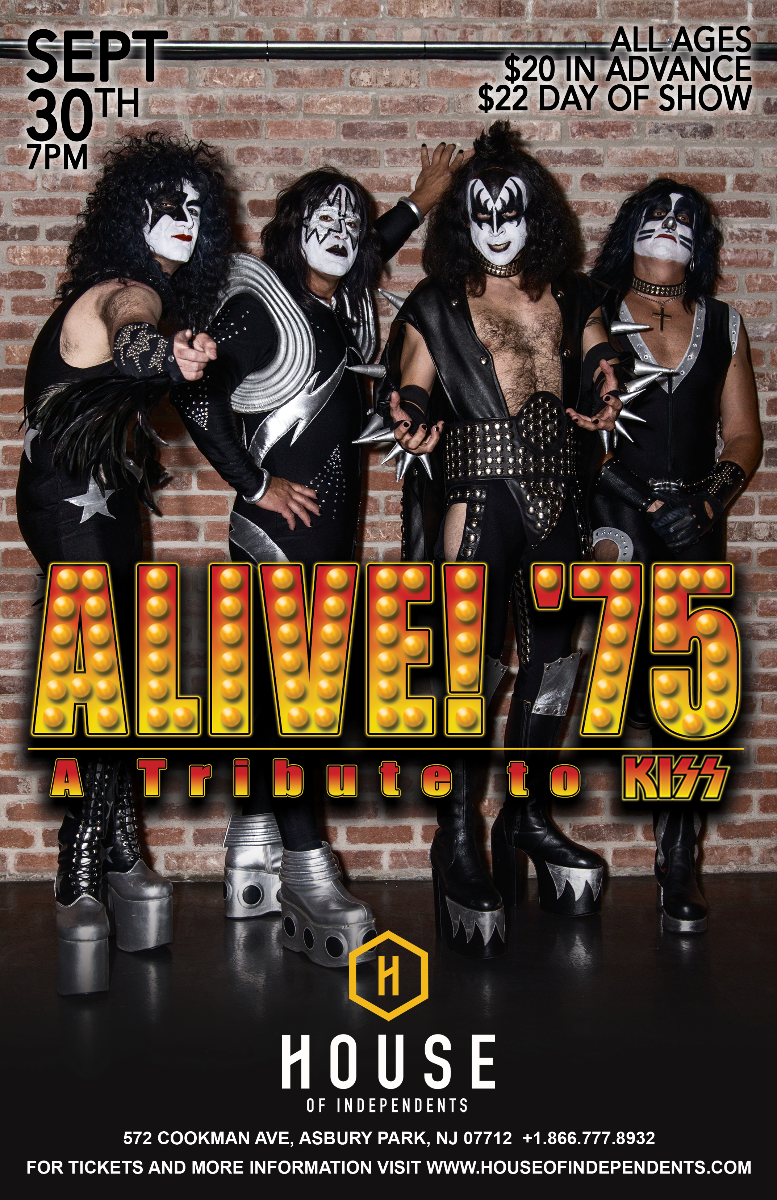 $20.00
Hey there KISS fans, listen up
This is definitely not just another KISS tribute band!
Alive! '75 is the ULTIMATE classic KISS experience!
Alive! '75 brings the KISS era to life on an authentic stage set, complete with over the top special effects, just like back in the day. Playing the classic KISS hits from the 1970s, this is so much more than four guys simply dressed up in costumes and face paint playing KISS songs. The overall experience is completely immersive and will take you back in time to see, hear, and FEEL what a classic KISS concert performance was really like. Since bursting onto the scene in 2014, Alive! '75 has consistently floored audiences across the northeast region with their one of a kind tribute. And it's no wonder with so many KISS tributes in the marketplace, Alive! '75 is uniquely different and provides a complete package unlike any other.
This is definitely a show not to be missed!
No other KISS tribute gives you the complete experience like Alive! '75!
This is truly the ULTIMATE classic KISS tribute experience and a "must see" show for any and every
Alive '75!
Rock | Classic Rock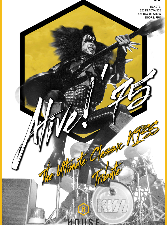 Hey there KISS fans, listen-up — This is definitely not just another KISS tribute band...
Alive! '75Imagine for a moment, of going back in time to 1975, to witness the sights and sounds of early KISS as they burst on to the music scene. Alive! '75 – A Tribute to KISS can take you there!
This one-of-a-kind classic KISS tribute brings the KISS Alive! era to life with all of the elements of the period – the sights, sounds and energy of the time in a replica, period-specific 1975 atmosphere.
JR Smalling called Alive! '75 "the closest that you're gonna get to the real glory days of KISS!" See for yourself and find out why.
Inducted into the Rock and Roll Hall of Fame in 2014, KISS has been a dominant force in music for over forty years, and this is where it all began. This is a totally immersive concert experience wrapped around the greatest rock 'n roll show on earth that you won't want to miss!
You wanted the best, you got the best... Alive! '75 – A Tribute to KISS!